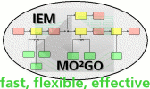 The service offer contains the following trainings:
IUM/MO²GO Introduction and Advancement
Training for special usage: business planning, quality management, organisational structures, environmental management, Knowledge management, etc.
With MO²GO the following consulting projects are supported by IPK-Berlin:
Planning of business processes,
preparation for certification,
choice of IT concepts,
organisational development,
harmonisation of distributed businesses,
business process analyses,
knowledge management and benchmarking,
business strategy and time planning,
supply chain management,
system of reference numbers (score numbers),
support of IT system implementation conform to the running business processes.
Apart from buying the licence, support and consulting services, there is also a renting option:
The price for one MO²GO single user licence including support for one week is 160 Euro.